Introduction – POSTECH IME
Industrial and Management Engineering is a discipline that aims to provide the best products, services, and information in a way that is optimal for humans through optimized systems.
We are pursuing an understanding of engineering technology and management by combining the contents of business administration with the existing industrial engineering field. While Industrial Engineering deals with the systematic planning, design, and optimization of complex industrial systems, Industrial and Management Engineering extends its coverage to more comprehensive fields, including the service industry, information industry, and management science.
Therefore, those who majored in Industrial and Management Engineering are multifaceted individuals who combine both engineering and business knowledge. POSTECH-IME students, equipped with both engineering acumen to solve problems and visionary leadership skills based on business intuition, are invaluable talents who will lead the national industry and the economy.
A study that changes scrap metal to gold
Engineering is often said to be creating the world's first or the world's best new technologies or products. This is true, and Industrial and Management Engineering also aims for the world's first and the world's best.
However, one does not become the world's best just by developing new technologies or products.
If applied to the right situation, even a common skill or product known to everyone can lead to enormous results that no one could have imagined.
In this way, Industrial and Management Engineering supports the optimized collaboration between resources and opportunities.
The huge amount of added value is gained by investing appropriate resources at the optimal time and opportunity.
Effective allocation and utilization of resources enhance the productivity of the industrial system in a smaller way, and promote the health of the economic structure in a larger way.
What do we learn in Industrial and Management Engineering?
In addition to the four fields of industrial engineering: production system engineering, ergonomics, information systems engineering, and optimization engineering, Industrial and Management Engineering can include business finance engineering, technology management, marketing, personnel management, and supply chain management.
Production system engineering is a discipline that seeks to efficiently control the entire production system and to improve its individual processes through the analysis and design of manufacturing processes producing home appliances necessary for everyday life and automobiles. Ergonomics is the field of analyzing and designing machines and computers so that users can use them easily and conveniently. Information system engineering is a field that studies strategic information utilization of network information technology represented by various information systems and networks that are used in companies. Optimization engineering is the study of modeling various types of problems in the real world having such a purpose and conducting research on the methodology of solving the problem by the optimal solution suitable for the purposes in an efficient way.
Financial Engineering in Management Engineering is a field of studying methodologies of identifying and managing various financial risks due to changes in exchange rates and interest rates, and analyzing and developing new financial products such as options and futures. Technology management is a field of seeking a strategic solution for the innovation of business system and technological innovation. Supply chain management is the study of the methodology of identifying the nature and characteristics of a supply chain consisted of suppliers, producers, distributors, customers, etc., and integrating and managing these to optimize the flow of resources, information, and finance on the supply chain.
Curriculum courses are organized based on such research subjects for each study fields. Industrial and management engineers who have completed all courses will be equipped with sufficient competence to play a role as a leader required by corporations.
Differences from General Engineering
General Engineering
Industrial and Management Engineering
Definition
• Development and application of mathematical and scientific knowledge and skills
• A comprehensive study that solves and manages problems across the entire industrial system and business environment.
Role
• Application of principles and theories developed in the field of basic science

• Applicable to a limited field

• The role of harmonious management of systems composed by engineering technology

• Organization and management of limited individual areas as a whole

Application
• Development of product and service technology
• System innovation and rational management
Differences from Business Administration
Business Administration
Industrial and Management Engineering
Field
• Marketing/Sales, Accounting/Finance, HR/Organization Management

• Includes information and metering management

• Begins from the production and manufacturing system

• Expands to planning technology + management technology + information technology + business science

Approach
• Education of the function-specific principles of an enterprise

• Strategic and conceptual features

• Education of rational management skills, decision-making skills, and product/service skills based on the mathematical and engineering background
Career
• Mainly in marketing/accounting/finance/HR field
• Various fields such as finance/securities/insurance, manufacturing, product/service planning and development, information systems/IT companies, venture companies, public institutions
These students choose Industrial and Management Engineering.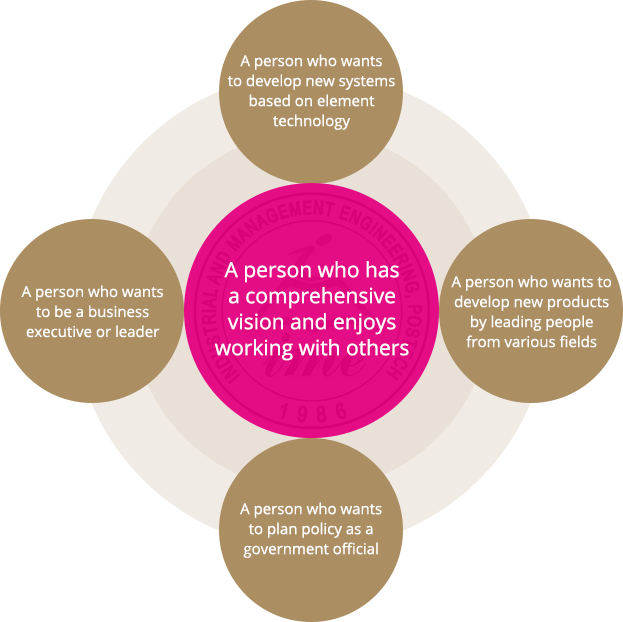 Beginning Period
1986. 12. Launched 'Industrial Engineering Dept.' at POSTECH
1987. 03. First Bachelor's Matriculation Ceremony
1988. 03. First Graduate School Matriculation Ceremony
1990. 02. First graduate of master's course
1991. 02. First graduate of undergraduate course
1992. 02. First graduate of Ph.D course
1994. 08. Completion of Industrial Engineering Dept. building
Growth Period
1998. 09. JoongAng Daily National University Department of Industrial Engineering Evaluation(1st place)
1999. 09. Launched the first phase of the BK21 project (IME-ME joint)
2001. 09. 1st 'Industrial Engineer's Day (IME Day)' held
2003. 09. JoongAng Daily National University Department of Industrial Engineering Evaluation (Ranking for each field, the ranking was unpublished)
Maturation Period
2005. 03. Changed the name to 'Industrial and Management Engineering Department'
2006. 03. Started the second phase of the BK21 business (IME-ME joint)
2009. 07. Started Eco-Design specialized graduate school project
2009. 08. Conducted 2nd FIELD (POSTECH-Seoul National University-KAIST-Yonsei University-Korea University Exchange Exhibition)
2010. 09. JoongAng Daily National University Department of Industrial Engineering Evaluation (Comprehensive No.1)
2011. 03. Opened POSTECH System Engineering Curriculum (~ 2011.12)
2011, 2012. JoongAng Daily National University Department of Industrial Engineering Evaluation (Best Rank, rank was unpublished)
2013, 2014. JoongAng Daily National University Department of Industrial Engineering Evaluation (Best Rank, rank was unpublished)
YEAR
OVERALL
RESEARCH
EDUCATION
FACILITIES
REPUTATION
1998
1. POSTECH
2. KAIST
3. SNU
1. POSTECH
2. KAIST
3. SNU
1. KAIST
2. POSTECH
3. SNU
1. POSTECH
2. KAIST
3. Ajou Univ.
1. KAIST
2. POSTECH
3. SNU
2003
unpublished
1. POSTECH
2. KAIST
3. PNU
1. KAIST
2. POSTECH
3. SNU
1. POSTECH
2. KAIST
3. SNU
1. KAIST
2. POSTECH
3. SNU
2010
1. POSTECH
2011
POSTECH and 3 other universities/institutions
2012
POSTECH and 3 other universities/institutions
2013
POSTECH and 3 other universities/institutions
2014
POSTECH and 3 other universities/institutions
UNIVERSITY(ALPHABETICAL ORDER)
NO. OF FULL-TIME FACULTY
PUBLISHED PAPERS
CITATIONS PER CAPITA
IF PER CAPITA
Total
Per capita
Berkeley,UC
18
119
6.61
33.72
10.80
Cornell
21
147
7.00
26.67
9.91
Georgia Tech.
52
439
8.44
46.87
15.91
KAIST
18
160
8.89
32.61
12.23
Michigan
30
200
6.67
30.47
12.74
Northwestern U.
24
132
5.50
25.79
10.17
Penn State U.
28
155
5.54
22.00
9.09
POSTECH
14
240
17.14
80.50
25.70
Purdue
23
287
12.48
48.52
22.03
SNU
14
158
11.29
48.29
18.03
Stanford
23
189
8.22
50.78
22.53
Virginia Tech
27
154
5.70
22.19
9.30
Wisconsin
16
284
17.75
108.44
36.07
※ Compared with Top 10 Universities ranked by 2012
※ Survey Organization : POSTECH Office of Academic Information Affairs (2013)